News
EmailCash joins Australia's fastest growing companies in the BRW Fast 100
BRW Magazine 14th October 2004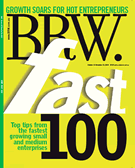 EmailCash has been ranked 40th in the prestigious BRW Fast 100 index for 2004.
According to BRW Magazine, the companies included in the 2004 BRW Fast 100 have experienced very fast growth and have recorded the highest average growth rates in three years.
The annual index, first published in 1991, lists Australia's fastest growing companies in all industry sectors and is open to both private and public companies.